Things didn't go as planned for Smoke Day. We were going to do a 13Lb. turkey on the E320s rotisserie but the bird was too big and even with the grates removed it hit the FBs.
So too plan B the Camp Chef pellet grill. Fired it up at 275 and put the bird on at 2pm.
Seasoning was salt & pepper with butter as a baste, basted every hour. Cooks apple pellets provide the smoke. Cooked at 275 for three hours then bumped it up to 325 for the final hour.
It was really windy but the Camp Chef held very steady for the whole cook.
Barb and I both agreed that this was by far the best bird we've cooked. It was moist and very tender with just a lite hint of apple smoke. Perfect!
Did a yam on the E320 (Had to have a Weber involved somehow) and made some dressing along with some green beans with bacon. Homemade cranberry sauce with mandarin oranges.
Barb made some gravy using the drippings.
It was a busy day and a lot of work but a lot of fun also and we do have a lot to be thankful for.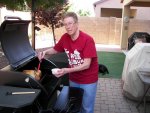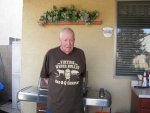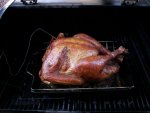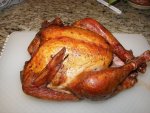 Hey Dad I smell something good.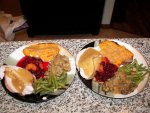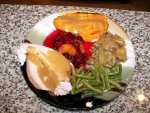 Stay safe.