Sorry folks the launch was scrubbed due to pouring rain during tonights session
..........So work continues on Das Franken Grill..........
Removed the reg and the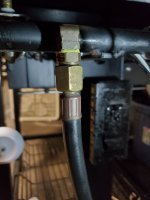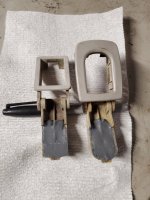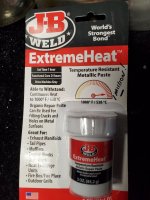 teflon tape from both connections......got her all yella'd up now proppa. I will assume by the previous owner having teflon in the cone shaped connection of the reg that it didnt ruin any of its natural sealing properties of just the threads and the cone doing its thing. It feels so right having it done correctly.....thanks to Bruce and Larry as usual.
I filled the under side of the starter buttons with 1 million degree JB weld in hopes that no matter how or where I have to position the starter button it will push down on the red knob and click my starter for me..... I had to do this because every 4 or 5 tries due to mal alignment the bottom red button would find its way into a hollow portion of the starter button. This has been driving me crazy because I have it lined up beautifully and it still finds a way to fail. Dang Franken Grill!!! Anyway I would consider tonight what I call........" a good grill night " ....last night.....was a " bad grill night "......I look forward to my next resto with no Franken crap goin' on!