Hi all, hoping for some advice or feedback. I pulled an allnighter in an attempt to have a delicious pulled pork lunch. My goal was to get a beautiful crust, so I did not wrap the pork at all, and I did not lift the lid for a full 7 hours. As you can see in the pics, there is some pretty heavy ash on the pork and the grill grates. This cook was on my 22.5" WSM that was sparkly clean before I started the cook. I'll list what I did, maybe something that can be corrected for the future
Weather was in the low to mid 30 degree range, low winds. No rain or snow
Poured a full bag of Kingsford Original - same I always use on smoker and grill
Mixed in chunks of Weber brand Hickory and Cherry wood within the coals. In total probably 8 or 9 chunks scattered around and throughout the coals
Started the fire using the Minion method at 10pm
Got the WSM up to temp, let it sit for over an hour as there was pretty heavy white smoke , closer to 80-90 minutes until it settled. During this time the the temp was steady about 200-220F, peaked about 250F
Started off with full water pan, using hot water and threw a few garlic cloves in (I always do for some extra flavor and aroma)
Placed the shoulder center of the rack about 11:30pm. It was a pretty simple pork butt, just rubbed the outside with some mustard then applied a rub.
Temp lowered at first, as usual, then rose steadily back into the 230 range
I was able to stay awake the first few hours, keeping a close eye on the temps and it stayed within the 230-250 range.
I dozed off, woke up a couple hours later and temp was in the 230s. Set an alarm and went back to sleep. Repeated this through the night and the temps were in range of 220-250
For vent settings - the top vent was pretty much full open. The bottom vents were less than 1/4 open and the one nearest the door I keep pretty much closed, as the door leaks like crazy.
Gotta say that WSM held pretty solid temps throughout the night, until about 6am when I woke up and temp was in the 190s.
That is when I cracked the lid open to discover the horror of my butt covered in a coating of ash. The probes and the grill grates were also covered.
Why??
Was there too much coal to start? Even though I've read and seen videos of people starting with/ using a whole bag for longer cooks.
Was it because I dozed off and/or didn't open the lid for about 7 hours?
in the pictures it was still dark out, so apologies for the not so great details. It looked much worse in person. I did my best to blow off the ash and then used a broth/hot sauce/apple cider vinegar spritz in an attempt to wash off the ash.
Overall the cook turned out OK. Some bites were pretty nasty, tasting like an ash tray. But other bites had a lovely bark and rich flavor. The inside meat was tender and delicious. Luckily this was just for myself, wife and kids. Not for a party or guests. Also, I'm so used to wrapping and saving time that I did not factor that into an unwrapped cook, my timing was totally off so this ended up being dinner! Live and learn I suppose
Would really appreciate any feedback on how to prevent the ash issue in the future! Thank you!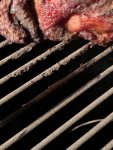 Grates covered in ash, the middle grate was wiped by my gloved finger, a lot came off.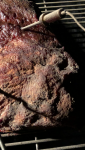 Ashy around the edges and top. Some juices leaking out from the probe area seemed to wash ash away or prevent it from sticking.
All the white and gray speckles are ash.