I'd rather have a good French Dip sandwich than a good burger.
Just meat, bread, and au jus for me.
A local store sells shaved CAB beef, not sure of the cut, so I thought I'd see how well it would make a FD sandwich.
Lamb & Weston shoestrings nuked to thaw, then browned up on the griddle before the meat went on.
Weber's steak & Chop seasoning on the beef.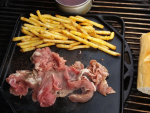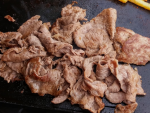 Plated: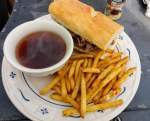 I wasn't expecting a traditional taste, and it didn't have one, but was pretty darn good.
The only downside was the beef being shaved with the grain giving it a little too much chew.
Now to see if my cell shots show up and stay up, they wouldn't on the "old" forum.