In the category of " cleaning out the freezer to avoid going to the grocery store because I don't have a haz met suit " I put this small 5# ham on the 26 Kettle. I found it on sale just after Christmas and this was as good a time as any to smoke it.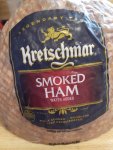 Also going through my rubs, I found some of Tuffy Stone's
" Cool Smoke
" rub that I'd used on a baby back rib cook a while back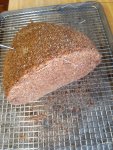 Put it on the 26 Kettle with 25 coals on each side and a small stick of hickory which turned out to be too many. I was shooting for 275 to 300* , I went well over that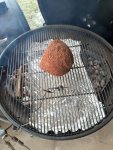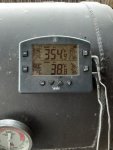 Tried to cut down the air flow to lower the temp, but did not have much effect, just let it run. Probably should've used a snake.
I smoked it to 120* IT , then glazed with ...
1/2 cup honey
tbs brown sugar
tbs apple cider vinegar
2 tbs bourbon
When doing that , I scored the ham, first time I've done and was not too good with it, suppose to go 1/2" deep, I got carried away .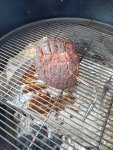 But I was happy with the final product and Mrs Dollar and I will get quite a few meals out of this ham.