Administrator
Staff member
Cook's Illustrated March/April 2020 features an article "The Easiest, Cleanest Way to Sear Steak."
This is done on the stove top, not on the grill.
Cold steak, cold nonstick pan, turn burner on HIGH, cook 2 min per side, reduce burner to MEDIUM and continue flipping every 2 minutes until 120-125. Rest 5 min before serving.
My MEDIUM ran a bit hot, so when my steak looked perfect on the outside but was not up to internal temp I moved it to a pizza pan in a 250*F oven until done.
This was a 50 day dry aged bone-in ribeye from Pat LaFrieda Meats in NJ. An unbelievably tender and flavorful steak!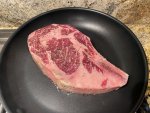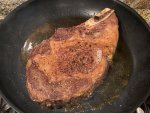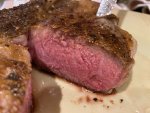 Last edited: