My dad's 83-year-old body died Monday; dementia robbed him of his humanity long ago, so while the finality of his passing hit hard it was somewhat tempered by the knowing of the inevitable.
He grew up in a time when meats had to be thoroughly (i.e. sent to the surface of the sun for a week) cooked so nobody "got worms", and because of him I started grilling for myself some 45 or so years ago so that I could enjoy a burger or steak that actually had some semblance of moisture and flavor.
A lefthanded compliment to be sure, but had I not grown up with that food philosophy I probably wouldn't have the appreciation I do today for grilling and cooking.
He started with charcoal and I loved lighting the briquettes with the oxyacetylene torch he had in his truck, but eventually he caved to one of many bad 1970s trends and converted to gas.
It was LP at first and then NG piped to a fixed pedestal Sears grill for many years, before converting back to LP. Ah, the spray bottle...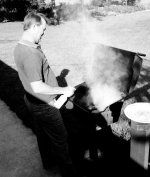 I used a *lot* of A-1 and Heinz 57 in those days.
He was the *only* person for whom I would ever cook a well-done steak, and once or twice I even grilled two rib roasts for holidays so that I could sacrifice one of them for well-done end cuts just for him. I wish I could do that just once more.
If you send me condolences or say you're sorry for my loss I'll gratefully accept, but I'd really rather you direct a little disposable income to fight dementia and similar brain diseases. I can flat-out guarantee that I'm not the only person here who's been affected indirectly or maybe even directly, but I'd love to someday say that I was the the last.
Oh...the fitting end? My dad, the guy who spent his life eating and apparently enjoying (for what reasons I have no idea) meat cooked to death and beyond...
...was cremated.
Last edited: