I held off on buying a Vortex because I have lots of other toys err... grilling accessories. With that being said, I'm finding uses for it.
Looking for some inspiration over @
www.simplyrecipes.com
, I saw a Tandoori chicken recipe and decided to try it. The only changes I made was to salt the chicken thighs and add the lime juice several hours before the rest of the ingredients. You can think of it as a 2 stage marinade. I also added a lot more red Chile.
I've been using my old green war horse for the Vortex. The lack of a thermometer in the lid might be a good thing considering the column of hot air coming up out of the Vortex cone. The temp outside tonight was 41 F - less than half of what it was just a couple days ago.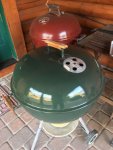 I rotated the leg quarters once during the cook, and at 40 minutes they were measuring between 163 and 178 so they got pulled off.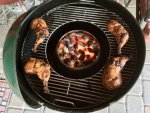 Maybe some day I'll add the red food coloring restaurants use, but these were very tasty. Plenty of Chile wallop to get my nose running. Basmati rice and some Trader Joe's Tikka vegetables were the sides. I think the Vortex and the old war horse did well tonight.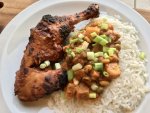 Everybody have a great week!