I've been doing something different for lower temp smokes of sausages & snack sticks in my WSM. I've been using a 1,100 watt el-cheapo Walmart counter top heating element that sits on the fire ring in concert with a pellet tray. That little element would go up to 185 degrees so it was great for smoking at lower temps and then finishing snack sticks and such. I had not modified the counter top heating element and it did still have the thermal limiter installed (I think I paid about $10 at Walmart).
I thought it would be nice to have something that gives me the option of a lower temp smoke that is also stable and controllable (more so than a small pile of charcoals). Electric seems to fit that bill nicely and it also does not add moisture to the air like an LP conversion would (although LP would fit the control-ability requirement). I wanted something that was not a permanent modification to the WSM and would not affect it's use as designed during charcoal smokes.
I bought a Brinkmann element thinking I could use it with a PID to make a damn nice unit for the WSM. It fits, but the way the wire exits the metal plate under the element, it was an issue with my charcoal grate. It would not simply sit on the grate or the fire ring. Also I would have to cut a new opening for the cord to exit as the plug was wider than any of the vent holes. So I kept this in the back of my mind thinking a better solution was out there. But the Brinkmann was doable with modifications (and I had to build a controller unless I wanted full heat all the time).
Then one day was I was browsing replacement heating elements and saw a "universal" replacement element from River Country that was sold on Amazon (I included the link since Amazon is a forum sponsor).
http://www.amazon.com/exec/obidos/ASIN/B00HDMDA2I/tvwb-20
This unit had a removable controller and the element had flanges on both sides for bolting into a smoker. It looks like a clone of the Old Smokey elements and controllers. Only difference was the Old Smokey ones sold for around $70 a set and this one was $39.50 and shipped for free via amazon.
There was a photo showing the element measurements on the amazon page, and it should fit diagonally through the WSM door opening. Ok, I'm a little ahead of my self on that point. When I bought my WSM in 2005, the original door had a hairline stamping crack on the raised section under the knob. Smoke leaked out this crack. Weber sent me a replacement, however by the time I received it a week or so later, I had used the smoker a couple of times and the smoke had filled in the hairline crack. Also I'm a lot less anal about smoke leaks not than I was when I was a newbie. So I had a brand new WSM door in storage. My thought was I could bolt this element to the extra door and simply change out the door to switch from charcoal to electric and still have some degree of temp control without building a PID. Sounded like a winner!
So fast forward a few weeks. Element is here, I dug the "new" door out of storage (that involved a complete cleaning out of the garage - in retrospect it would have been easier to buy a new door for $20, but it's done).
So here is the electric WSM mod......
Heating element & controller (element is said to be a 1,300 watt unit).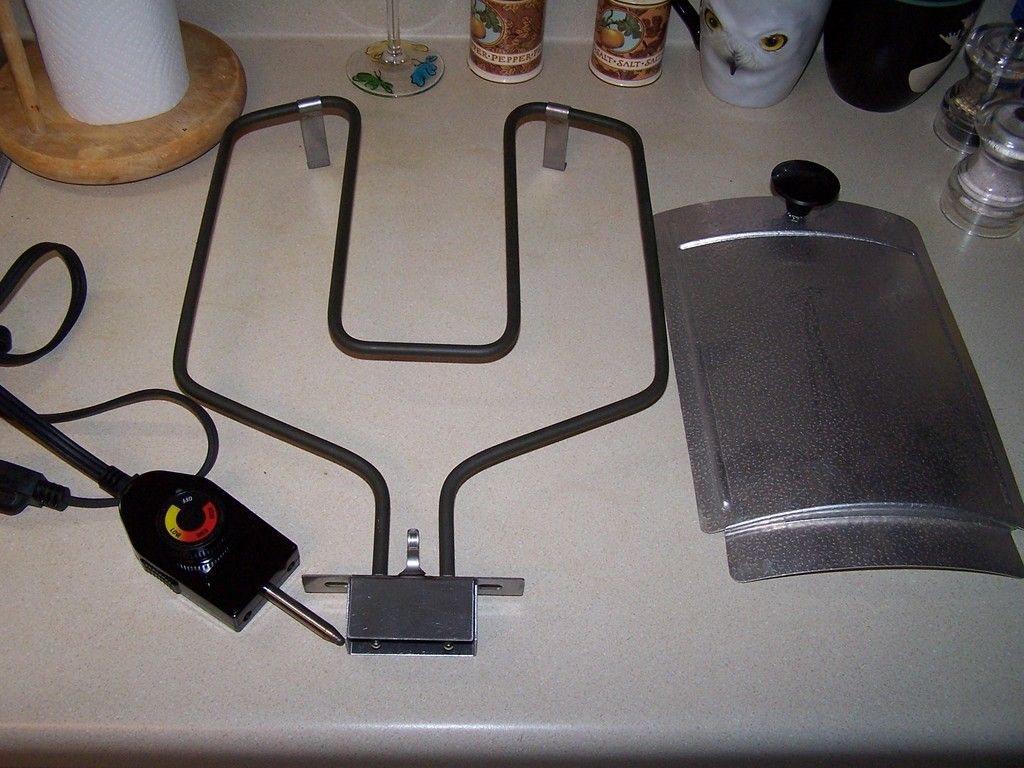 Closeup of control unit - not "precise" in it's markings but it should due for the task intended.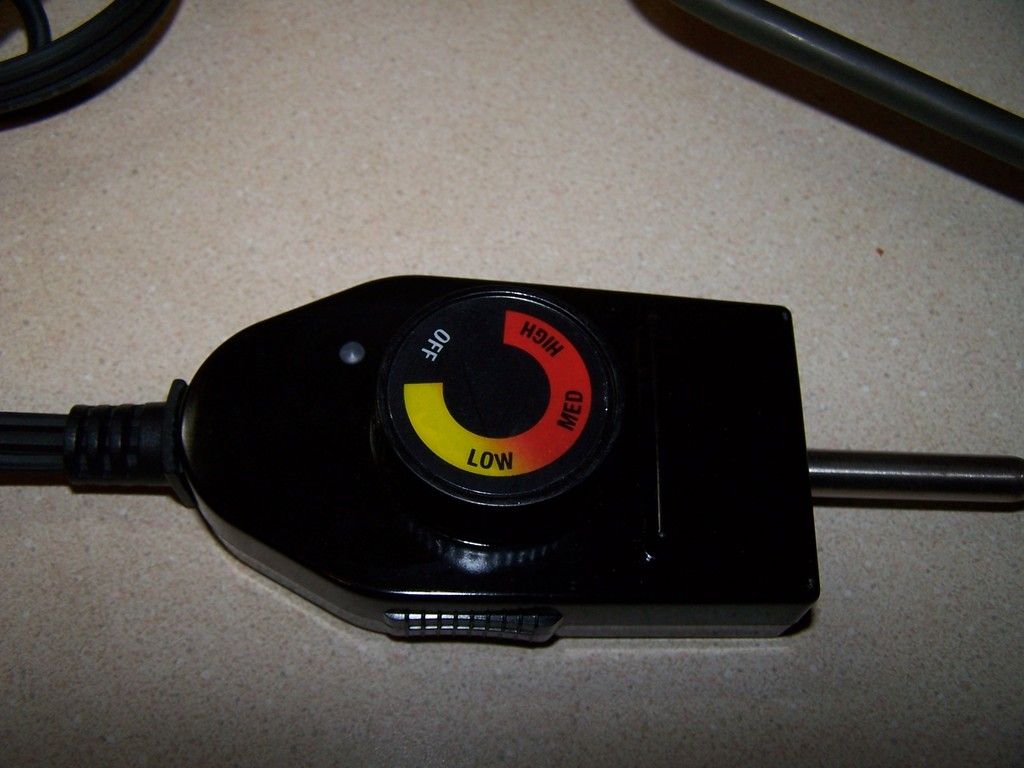 Mark the WSM door for cutting. I used the flange as a template.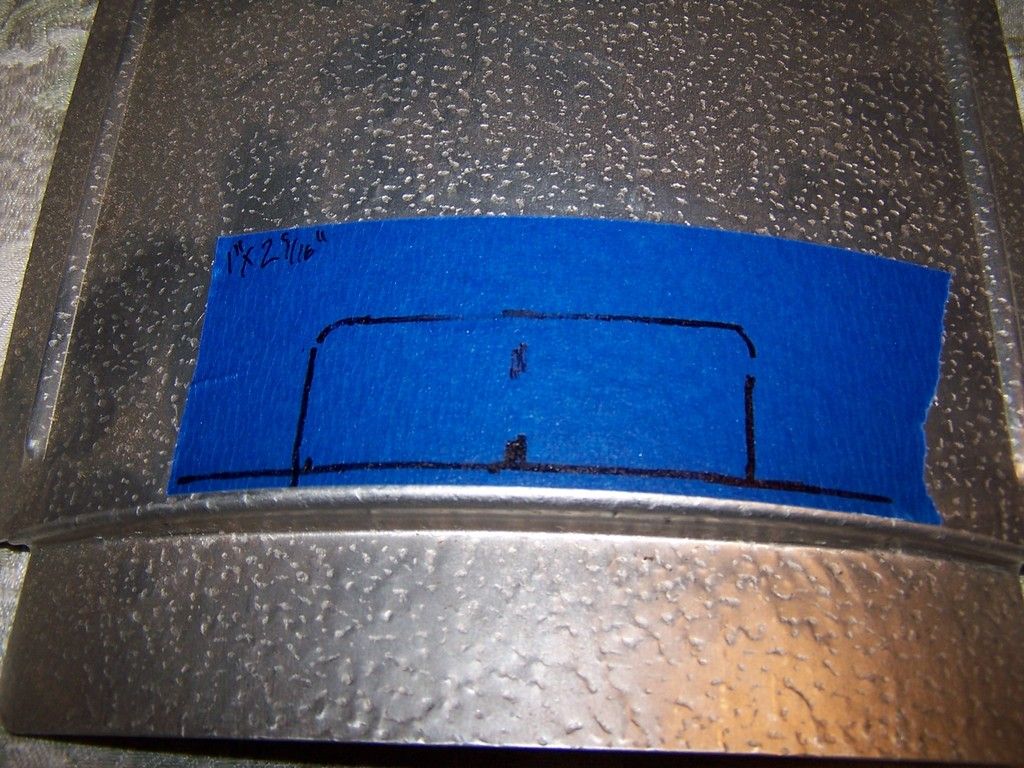 Element installed in the door. I used a Dremel tool with a flat cutting wheel to cut the opening. Then drilled two holes for the 8x32 bolts.
I used stainless hardware to attache the flanges