Some of you might remember my grandson and bbq buddy. He was 13 when he joined here and didn't post but a few times, teenage years you know.
He's 22 now and has been working and cater grilling for the largest butcher shop in St Louis. Today he branched out on his own.
With a kitchen rented at a neighborhood bar and grill, an electric smoker (I've yet to see) and a menu that I think is too large, he starts living the dream he's had for years.
Once we feel safer, when our vaccines have had more time to work, we'll be checking out his setup and his cooking. Hope to post about it in the near future. Food service is a tough business, he's no doubt got some tough times ahead.
I told him he needs some tats on those blank canvas arms.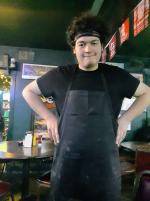 His mom, my daughter, was there for the opening with her hubby. Here's their order:
The menu: