i bought 3 boneless skin-ON chicken breasts weighing approximately 2¼lbs each...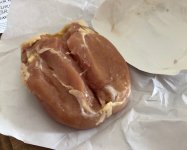 ...and about 10 pounds of sticks and thighs...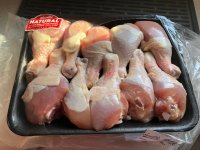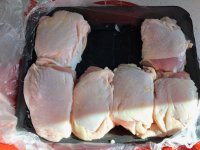 made a brine i've used for turkeys... i like it a lot (the recipe is at the bottom of this post).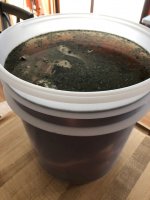 the bird parts were brined overnight.
then, parts removed, patted dry and arranged on cooking grates for the 22" WSM smoker.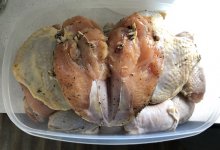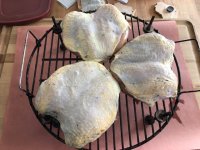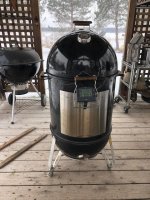 Brine Ingredients:
· 2.5 gallons of water
· 2 cups of salt
· 2 cups of light brown sugar
· 1 tablespoon black pepper corns
· 1 tablespoon dried thyme leaves
· 1 tablespoon ground sage
· 1 tablespoon dried parsley
Heat 1/2 gallon (8 cups) of water to a very low simmer and add in all the ingredients.
Stir until salt and sugar has dissolved.
Turn fire off and let cool to room temperature.
Once it cools down, pour the remaining 2 gallons of cool water into your brining bucket.
Then add the seasoned 1/2 gallon of water into the fresh 2 gallons of water and stir well.