I know there are some homebrewers here other than myself. I'm cleaning kegs and draft lines today and brewing a black IPA tomorrow morning. Kegs are empty right now except for a cal common which can stay put until this terrible thing called dry January is over!
Been brewing about twelve years, used to compete and was even a BJCP judge. At one point brewed on a three tier rims system but am back to my old trusty cooler mash tun and 15 gal kettle. I keep it pretty simple these days.
Anyway, what do you guys and gals have working? Show me your systems and keezers! I'll snap some photos of my simple kit tomorrow. But for now here is my very much scaled back keezer. Used to have 7 on tap back when I was in CA!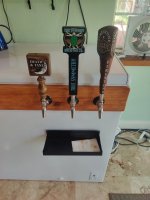 Last edited: