Administrator
Staff member
Buc'ee's Travel Center
15901 I-35W
Fort Worth, TX 76177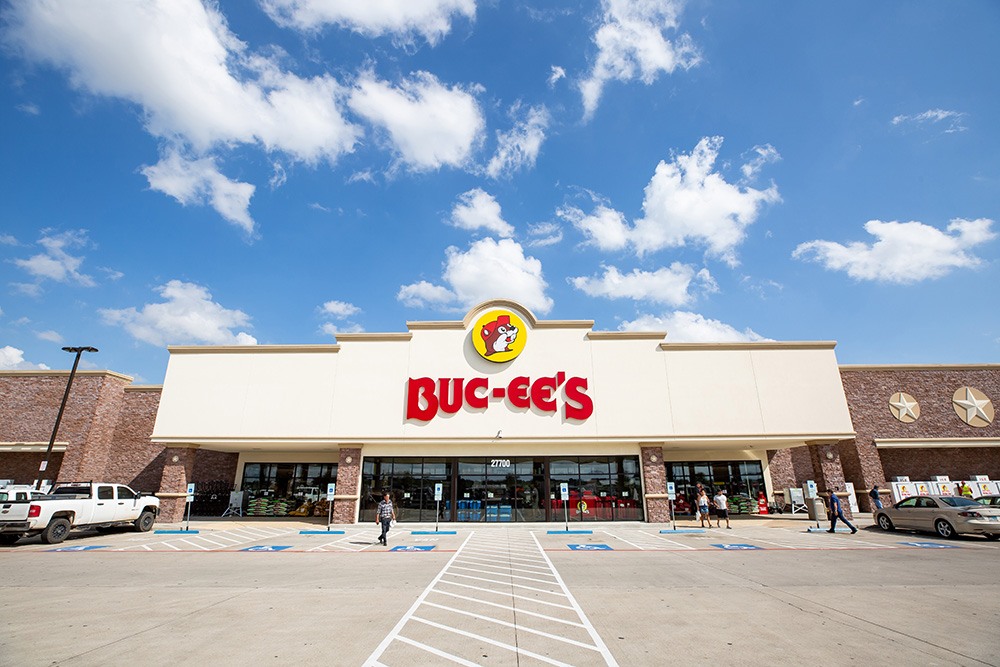 Buc-ee's is a chain of travel centers known for clean bathrooms and many fueling positions.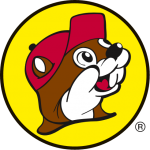 www.buc-ees.com
On our way home from
Camp Brisket 2020
, my wife and I stopped at the
Buc-cee's Travel Center
on I-35W in Fort Worth, TX near the Texas Motor Speedway on January 12.
For those that have never heard of Buc-ee's, it's a chain of convenience stores and gas stations located mostly in Texas, with one location in Alabama and plans for Florida and other locations in the future. Some of the older Buc-ee's locations are no bigger than a regular gas station + convenience store, but many of the newer ones along the interstate are super-sized. You'd think they were truck stops on steroids, but in fact they are travel centers aimed at automobile drivers.
Beside a ridiculous number of gas pumps and a huge car wash facility, the big Buc-ee's locations are known for their world-famous, oversized, spotless restrooms (with attendants continually cleaning them). As for food, the big stores feature a massive wall of beef jerky, a monster selection of candy and dried fruits & veggies, a huge selection of beverages at the self-serve soda fountains and in refrigerated display cases, lots of cold beer, and a prepared food section selling breakfast tacos, barbecue sandwiches (might be OK, but there's so much good barbecue in Texas I don't imagine you'd want to eat barbecue here), hot sweet coated nuts, kolaches, and more than 24 types of fudge. Virtually everything you'd expect to find in a convenience store is here, plus one entire end of the store is dedicated to souvenir merchandise including t-shirts, hats, toys, and every kind of knick-knack imaginable.
The most famous food item of all is the
Buc-ee's Beaver Nuggets
, an addictive puffed corn snack with a sweet coating. They are awesome, you will want to lug as many bags home as possible! There are also sea-salted caramel and powdered cheese versions. Look carefully in the store, there are small- and large-sized bags...buy the large bags!
Buc-ee's has a large selection of jams, jellies, and preserves. An unusual one is
Mayhaw Jelly
. Made from hawthorn berries that grow on the mayhaw tree in wetlands throughout the South, these little fruits look like a cranberry and are harvested each year in...wait for it...May. They have a tart flavor that makes a beautiful pink jelly when lots of sugar is added. We bought a jar; I liked it a lot on toast.
I was surprised to see that Buc-ee's had a good selection of barbecue-related items, including rubs, sauces, and even some smokers, including several Green Mountain pellet cookers and a collection of barrel smokers. At the entrance, they had a flat top gas griddle, several propane-fired seafood boilers, and several propane-fired deep fryers. They also sold bacon grease in 7-pound tubs...who knew?
So, the next time you're driving through the Great State of Texas, where everything is
BIGGER & BETTER
, make sure to plan a stop at the nearest Buc-ee's. I guarantee it will be one of the highlights of your trip!
P.S. For lovers of In-N-Out Burger,
there is a location right around the corner
from this Buc-ee's location.
Here are some photos from our visit...hope you enjoy them.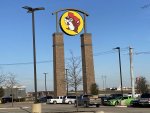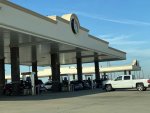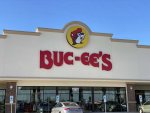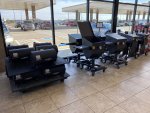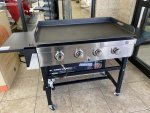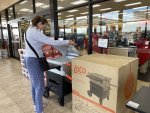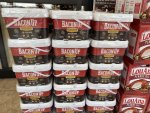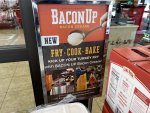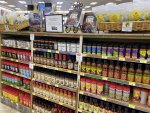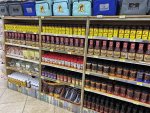 Continued...