I wanted to try this recipe for a while, had a chance to Sunday. I got the recipe from here:
https://www.virtualweberbullet.com/turkey-breast-central-texas-style/
I bought a full turkey breast and de-boned it. I will never be mistaken for a butcher. Applied 2:1 pepper to salt.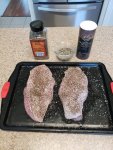 I also prepped a low sodium Spam with some Rich's Rub.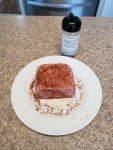 Set up on the 18WSM with KBB and some post oak for flavor. Lily was overseeing the operation.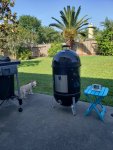 Smokin.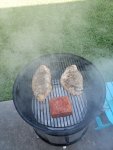 When it hit about 145 I foiled with a stick of butter.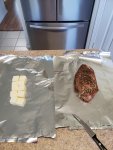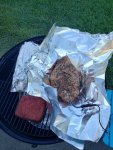 Spam got some SBR Sweet & Spicy.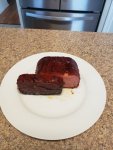 Turkey breasts swimming in butter.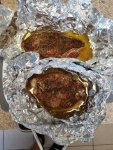 And sliced.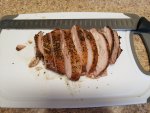 Turkey came out excellent. Spam was an experiment that I probably will skip next time. Thanks for looking.