Shorthorns are supposed to be a good all around breed for milk and meat. I bought this 4 lb. flat from a producer here in Missouri through their website. I've also purchased and eaten some of their Berkshire pork chops, pork the way it used to taste.
George and Shirley Luebbering, their herd, and the history.
www.midmobeef.com
My concern was the thinness of the whole thing. Rubbed with Oakridge Competition Beef and Pork.
On the 14" WSM using RO Chef's Select, and pecan and hickory wood.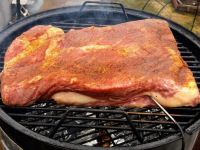 After 3 hours, the smoker ran in the 270 F range.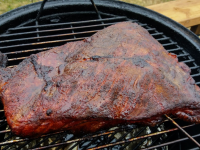 It was in the stall, so I wrapped it in butcher paper, then back on the smoker. I've lost my done pic, it hit 200 F after about 6 hours, no jiggly wiggly at all, so I was concerned about edibility. It turned out vey edible, tender, flavorful, but pretty dry. That's why we have bbq sauce.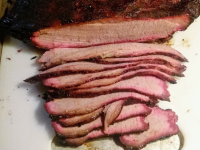 With just the two of us, there's plenty of leftovers.
About the charcoal. First time smoking with the newer style of Chef's Select. It's been fine for grilling, but I'm not sure it was giving me a clean burn. The meat was dried off well before the rub, and the smoker was well vented, but I can taste a very slight creosote taste. Could just be me and my taste buds.
Here's was this morning's breakfast, egg, cheese and brisket McBob.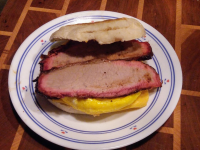 Thanks for stopping by!