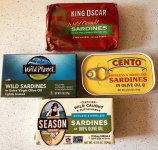 Ok, for lunch today, I had the Wild Planet can...
kinda blah. I will not purchase this again...
Then the yellow can of Cento sardines...
much better. Would buy again. More flavor than the Wild Planet sardines.
Perhaps tomorrow, I'll try the other two above. Although, Season Brand sardines are what I usually buy.