Wanted to share a recent pickup of mine even though I don't plan on keeping it. I thought someone with a similar style grill might be interested in the wood table that the former owner made for this one. He did a good job on it.
The guy was retired and he actually worked for my current employer which is kind of cool. He is the original owner and a year or so ago he built the wood table and cleaned up the grill for his daughter to use, but she moved into an apartment, so it's been sitting in his garage unused.
I'm in the middle of taking it all apart and cleaning it up. It's in better shape than I thought after first seeing it. The bowl and lid and in very good condition. No signs of corrosion or rusting except for the rivet on the lid damper, but it's not bad there.
The wire storage rack on the bottom needs a good scrub and I plan to hit it with some spray paint to freshen it up. Other than that, it's seems ready to roll. I've got the grates soaking in oven cleaner in a garbage bag now. Hoping they come clean. It doesn't appear this guy used this grill very often based in it's condition.
Here are some pictures. Ignore the wood handles, those are from another grill I got yesterday.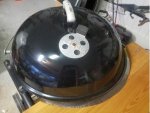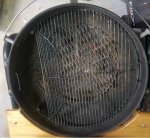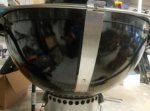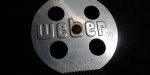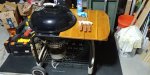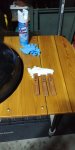 Last edited: