So, got this delivered today.
QuliMetal Portable Grill Cart for Weber Q1000, Q2000 Series Gas Grills and Blackstone 17" 22" Table Top Griddles, Portable Griddle Stand
https://www.amazon.com/dp/B0B1MVNCZZ/?tag=tvwb-20
I used to have the Weber cart but just didn't like how rickety it was. So far this one is far superior and has extra side table space and a condiment shelf.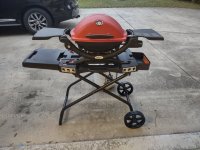 Grilled up some fajita marinated chicken to try it out.