Finally cold enough to do some cold smoking. Cold smoked a Chuck roast with some cherry pellets in the 6" AmazeN Smoker pellet tube in the 14.5 WSM. Was 20f entire time of smoke.
Marinated the smoked roast Henderson's relish for 8 hours. Then cooked.
Mississippi chick roast and oven roasted veggies. I have to admit I made the roast in my Ogallalla Cream Can. Did sear it in the field #10.
Mississippi pot roast can be done in a Dutch oven but it takes 4-8 hours.
2-4 pound chuck roast
1 packet au jus
1 packet ranch dressing
1 16oz jar sliced pepperoncini (juice and all)
1 onion sliced
1 stick of butter
1 32oz box of beef broth or beef bone broth.
Mix all ingredients in your Dutch oven.
Sear all sides of roast in oiled CI pan. Alternatively you could do this in the Dutch oven. Then add other ingredients.
Place in 200f oven until the roast is fall apart tender.
I used the cream can on the stove top. It works like a low pressure, pressure cooker. So it only takes 2 hours to cook.
Made a simple gravy with the cooking stock.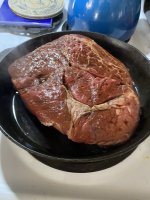 Quick sear before going in the Can.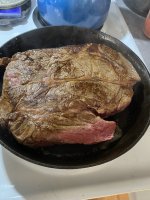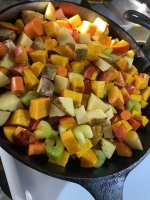 Some veggies to roast