I now have a dry place (if there is such a thing in Oregon) to BBQ, anytime of the day or night!
(And to top it off, the Summit Kamado arrived this afternoon and I got it assembled in time for the picture.)
There are still some things to do; gutter, then trim and paint. But it's usable as-is, and that's the most important thing.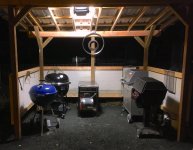 Last edited: