Not sure if this should be in the Competition forum (not what i would call a real competition so here i am), but here I go anyway.
So our neighborhood has a annual BBQ Cookoff. I think there are going to be 18 teams. Its a very laidback and family oriented event, I dont think very competitive. Judging on Chicken, ribs, brisket, "other" and dessert are the categories. I have a couple of friends that showed a lot of interest in putting a team together. SO i stepped up and got a team "You Got Daved!", then started recruiting the personnel. WELL it seems that noone has ANY bbq ability NOR a means to cook meat on. Until yesterday we were going to be working with my WSM, my Kettle, my Weber Gas Grill, and an electric smoker. Pretty much a bunch of dudes looking to drink some beer and ME looking to take home a grand championship. WELLLL OK.. i can still pull this off...
THEN comes another neighbor... "i can get a smoker from my company if I can be on the team." Just has access to it, and no idea how to use it.
To this point i have only used my WSM, but spent enough time around the forums and youtube to know how to work a bigboy smoker. SOOOO the first time using anything other than my WSM, im firing up THIS bad boy and i have to say im pretty effin excited about it. Looks like a 12' reverse flow trailer. And i was told it has been painted and has a cover to the trailer now. I am tryign to get him to bring it over on wednesday so i can have a look at it. I am curious about tuning plates and the overall condition of it. BUT either way. Jumping into this one w/ both feet.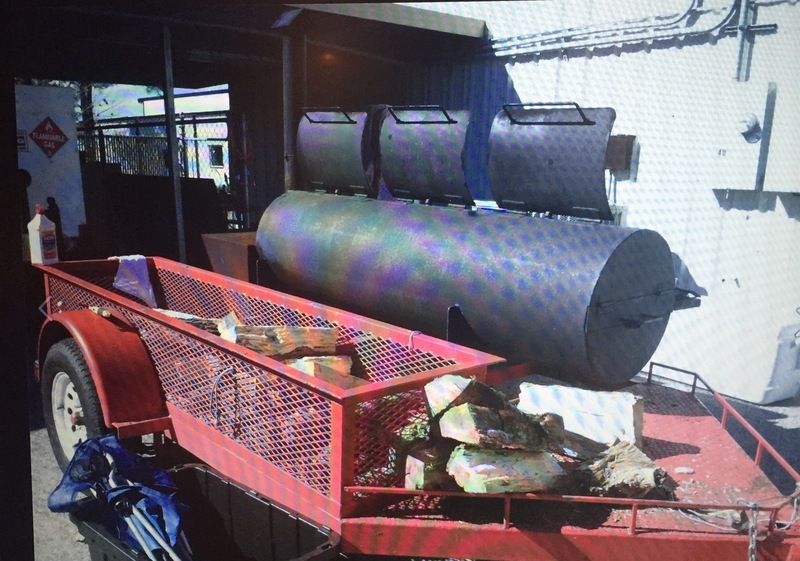 rb