Inspired by some recent pizza threads (thank you!), I decided to do a pizza last night.
Shrimp, corn, basil. Sauce was alfredo and about 2T of pesto. Really good stuff. Made in the mortar and pestle with help from my budding 9 year old sous-chef. He loves to bash things...figured he'd do well with this.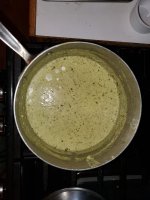 Par-boiled 2 ears of corn. Quickly sautéed some shrimp with garlic. Mixed them together. Few grinds of pepper. Went with fontina and parmesan for the cheeses.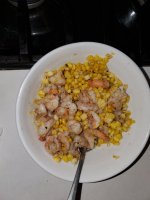 Used a full load of JD in the vortex. Raised the deck with charcoal baskets. Got the stone up to about 600°. A bit low for leopard spotting, but this was a really, really good pie. Will definitely be doing this one again.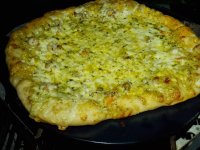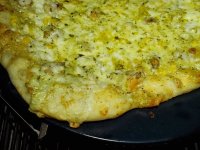 Thanks for looking and for the inspiration!