So, in November my wife and I moved 1100 miles from OKC to South Georgia. I have lived my entire life within a few hours of OKC so this move has been quite the adventure for this old guy.
My elderly parents were still living in OKC with my 87 year old father in home hospice with advanced lung disease. In the very early morning hours of January 2nd my Dad passed away. I returned back to OKC to help my mom with arrangements and to get the estate settled so we could get the house and most of the contents sold as she is moving to Georgia with us.
Ended up being there just shy of 2 months and Mom and I finally got to return to Georgia this week. But, being the true Weber honk that I am, I had to monitor the marketplace while I was in OKC, and boy did it pay off. For 7 or 8 years I've been searching for 2 things.... The portable Weber table (for my Jumbo Joe/Smokey Joe/2 Go Anywhere grills) and a Char Q.
First I found the table and a Q2000 that had only been used once or twice. I didn't need the grill but bought it anyway to make sure I got the table.
Thread 'I finally got one!!!'
https://tvwbb.com/threads/i-finally-got-one.93981/
Then a couple weeks later another miracle happened. A fellow member from this very board (
@Mike - LA
) knew I was looking for a Char Q and reached out that he had one for me if I could come get it from Northern Louisiana. Well, for those of you geographically challenged, Louisiana just happens to be between OKC and South Georgia. Lol. And, he was gracious enough to hold it for me for 3 weeks until I was able to get there.
Well, tonight was the inaugural cook on the Char Q and I used the table just for ceremonial purposes. Lol. Pork loins rubbed with Head Country Championship Seasoning.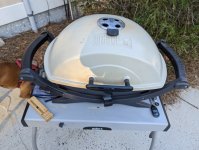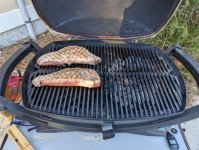 Had to have my grilling buddy with me and catch some March Madness.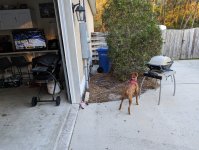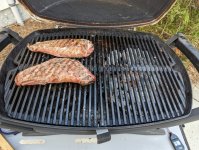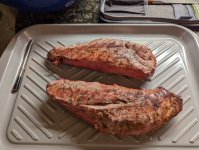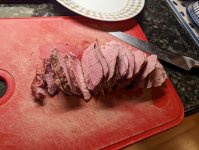 Wife made cilantro lime rice and some green beans.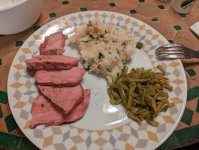 My folk's house just got put on the market today so it was a bit of a celebration dinner for my wife, my mom, and me. It's been a really crazy few months for us all and today we found the perfect house for all 3 of us that we hope to put an offer in on tomorrow. It was my dad that ingrained the grilling gene in me from a very early age as I watched him douse charcoal with lighter fluid in one of those tiny hibachi style grills that was all the rage in the 70s and 80s. I can still smell the lighter fluid, BBQ sauce soaked chicken, and steaks seared hot and fast. To this day they are still some of my favorite memories of my pops. So, it was pretty beautiful to do this cook tonight on a grill and a table I've been looking for for years but just happened to miraculously find in the last few weeks after my dad's death.
Thanks again to
@Mike - LA
for not only holding the grill for me but showing me his amazing collections of grills and other really cool stuff.
Enjoy your time with your parents if you still can and make sure to carry on the things that they loved and passed down to you. Those things are all true blessings in this world.
Hope everyone reading this has a great St. Patrick's day and weekend.
Last edited: