Administrator
Staff member
OK, we're just T-Minus 1 Day 'Til Thanksgiving! Here are some final turkey day tips:
Use a good, sharp carving knife.
It's safer to cut with a sharp knife than a dull one, and your slices will look better, too. Or, dig out that electric carving knife from the back of the kitchen cabinet. They do a great job of evenly slicing turkey breast. And
brush-up on your kitchen knife safety skills
with this helpful PDF.
Barbecue the turkey at 325-350*F.
Don't bother with low & slow. Turkey does not contain the tough connective tissue found in brisket or pork shoulder. Your turkey will cook faster--about 15 minutes per pound--and you'll get better skin, too.
Don't bother basting.
Before cooking, brush the turkey with 4 TBSP melted butter, sprinkle with salt & pepper or your favorite rub, and you're done.
The key to moist turkey meat is to not overcook.
Use a good quality instant-read thermometer to measure internal meat temp. Cook to 160*F in the breast, 170*F in the thigh. Remove from the smoker and
let rest uncovered for 20-30 minutes
on the kitchen counter. Not only will this allow you to handle the hot turkey more comfortably during carving, but
carryover heat will bring the internal temp up 5*F
to a final reading of 165*F in the breast, 175*F in the thigh--perfect, moist turkey!
Don't carve the turkey on the bone.
Remove the breasts completely, then slice across the grain. Remove the legs/thighs from the carcass as one piece, then separate leg from thigh at the joint. Slice dark meat off the thigh. Arrange all the slices and the drumsticks on a platter, garnish, and serve. This video demonstrates the process:
http://youtu.be/Cjm_qxlp81s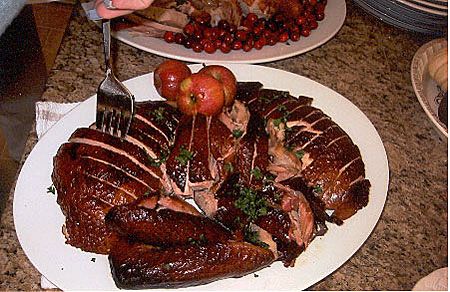 Turkey problems?
Dry meat? Red or bloody at the thigh bone? Check-out our
turkey troubleshooting tips.
Want more tips?
Read
TVWB's Countdown to Thanksgiving tips
that were posted on Facebook and Twitter each day leading up to Turkey Day. And please
like us on Facebook
and
follow us on Twitter
!
Want even more great tips?
Read the transcript of the
Twitter Turkey Chat
from 11/19/2013 sponsored by
@WeberGrills
in which
@KevinsBackyard
and
@VirtualWeber
answered a lot of great WSM turkey questions.
Still have unanswered questions?
Ask them in our
Turkey Talk forum
.
--
Finally...please take time to
relax
,
enjoy your Thanksgiving Day
with family and friends, and
give thanks
for all the blessings and good people and good things in your life!
Best wishes,
Chris Allingham
TVWB and TVWBB