Took advantage of the nice weather this past weekend and did a couple cooks on the kettle.
First up was Grilled Sweet and Sour Pork Tenderloin. Main players were the tenderloin, red peppers, fresh pineapple (cut the top off so no one sees the clutter on our counter), and some white onion. Tenderloin was salted a few hours before grill time.
Tenderloin and onions to the cool side while the peppers and pineapple finish up.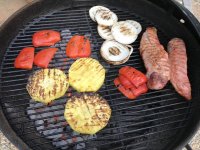 Everything done and chopped up.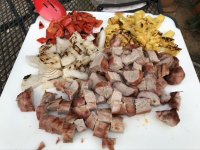 Little Eddie hoping I would "drop" a couple pieces of pork. I did.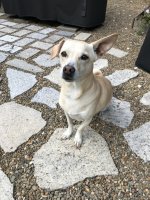 Everything mixed up and ready for plating.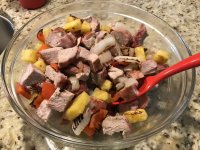 Served over a bed of white rice and topped with some homemade sweet and sour sauce. This is one of our favorite meals. It's hard to beat grilled pineapple.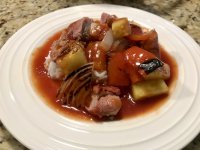 Next up was some tequila-marinated flank steak.
1 1/2 lb of flank.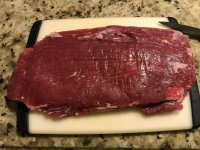 Steak was marinated in a mixture of olive oil, tequila, chipotle peppers, lemon juice, paprika, worcestershire, black pepper, salt, and oregano.
This was after the flip, along with some grilled jalapeños.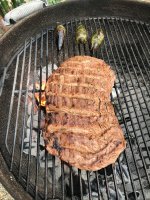 Sliced and ready to serve with green Cholula, sliced avocado, red onion, queso fresco, and some chopped cilantro.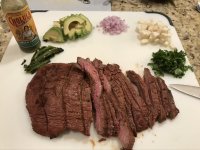 Ready to eat with a side of Mexican rice and black beans hiding under the tortilla. Good stuff.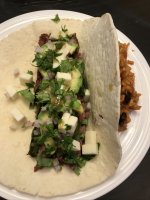 Thanks for looking.