I know, I know, it's not even summer!
I haven't made any sausage in, I don't know how long! I did, however, have a few packages of ground pork and beef in the freezer that were nearing their "need to use" date. So, yesterday I thawed out about 5 lbs of ground brisket and shoulder (probably 2lbs brisket and 3lbs pork), then mixed 'em up with this stuff (listed as percentages of the total meat weight):
1.53% Salt
.31% Pepper
.29% Mustard seed
.28% Cure #1
.20% Marjoram
.17% Paprika
.15% Mace
.12% Garlic powder
.09% Carraway
.04% Juniper berries, ground
8% Ice Cold Water
Since this batch wasn't going to be fermented, I left out the dextrose/sugar. Mixed up the spices in the water, then hand mixed all of this into my ground meat until I could no longer feel my fingers (this is how you know that you mixed everything well, AND that your meat is cold enough!)
The spiced meat then went into a gallon zip lock (funny how 5 lbs fits PERFECTLY in a gallon zip lock) and rested overnight in the fridge.
This morning, I set up my faithful Enterprise stuffer: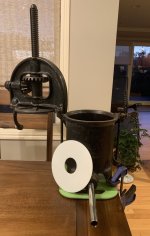 ....and not too many minutes later, I had five nice chubs of sausage ready to relax a bit before hitting the smoker: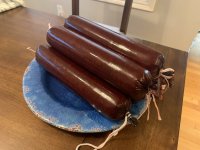 My stuffer leaves precisely 8 oz of meat in the bottom, which, strangely enough, is the correct amount for four, 2oz sausage patties!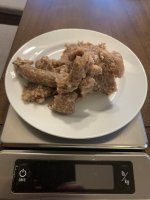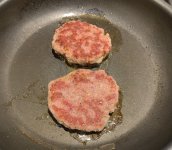 I only cooked two.....save the other two for my kids when they get up. I'll hang the chubs in my pellet smoker at about 160F or so to get smoke for about six hours. Then I'll poach them in a water bath to get up to 152F. Dunk in an ice bath to cool them down, let them rest in the fridge a few days, then enjoy.
I'll post up some more pics later, but right now I need to fire up the grill, then head off to my tee time!
Rich