I cook tri-tip every other week it seems, and I've been experimenting, and trying to get more smoke flavor into the TT.
I like it med rare, so it is a fairly short cook, and I rarely get enough smoke flavor.
I've tried smoking on the pellet, on the BGE, the Pellet with smoke tubes and tonight on the BGE with two smoke tubes filled with mesquite pellets.
To be candid, it is the first time I've had too much smoke on the meat, so I must be on to something.
My older son thought it was a nice change. My younger son said it was good, but maybe too smoky. I personally thought it was over smoked, but not that bad as I had seconds.
Details:
started cowboy lump ( oak and hickory blend) in a chimney, got things going, and let the temp stabilize around around 200F grate / 220 dome temp.
started two smoker tubes with mesquite pellets, and let them get burning for about 5 mins.
I put both tubes directly on the coals, and let the temp stabilize at 220F at the grate according to my TW-smoke.
I let it go for about 10 mins and watched the smoke. It thinned, but was more smoke than normal for just the BGE at 220F.
Added the meat, put in the meater probe, and a TW meat probe. ( more on the meater later )
Went out front and threw a football for a bit with one of my kids.
After football, and temps were down to about 200 grate, 225 dome, and a nice amount of smoke was visible. Maybe not as thin as before, but not thick smoke. I was not using my billows or any ATC and it was within temp alarm range of 190F to 250F
Let the tri tip cook until 125 internal, then pulled off, wrapped and it sat for about an hour. ( dinner was later for other reason)
Before dinner, I dumped the mesquite pellets on the coals, opened up vents and let it get hot for a reverse sear.
It was tasty, med rare and smoky. I think next time I'll only do one pellet tube, and I might try hickory instead of mesquite.
I didn't take many pics. I'll add a few in a minute.
TW smoke and the meater don't seem to agree... I'll test more later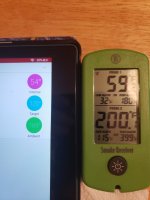 This was just before it went on for the reverse sear.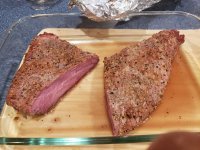 Last edited: