PLAN A (Crash & Burn)
- I always have a plan going into Smoke Day, I choose the recipe weeks before and think about it in the run up. I order my shirts and wait with anticipation for them to arrive. The week before, I start to provision. This is where the problems began. I was going to smoke pork belly. I've never had pork belly so it would be a treat. As I went to the butcher shops, everyone wanted to sell me a 15lb belly. That was way too much for my wife and I.
PLAN B (Unexpected Success)
- Chicken = Boring in my mind. I've also done chicken 2x times before as it is popular with the rest of the family. I purchased 2 small fryer birds, spatchcocked them and found a Meat Church recipe for
Alabama White BBQ Sauce
. Since I'd never had that before; I was once again excited about yesterday.
THE COOK
- It was raining buckets on Long Island so I didn't want to fire up the WSM, so instead I decided to smoke on my Weber Kettle. This was the first time I had ever done that. It held temp perfectly and served me well as always. The sauce is super easy and supremely delicious. I did use Meat Church Holy Cow rub as I have several of their products and love them. I left one without sauce just to taste the rub alone.
THE FINISH
- Here are the pics for all of you. Many thanks to Chris and this board for the knowledge sharing and the confidence gained in the process.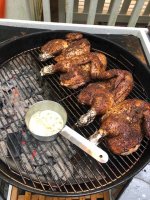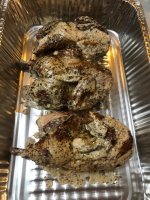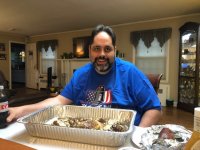 Last edited: