First off, another pointer/credit to J Hasselberger (
https://tvwbb.com/threads/smoke-it-then-sear-it.91173/
) for the idea and good info on the method. I ended up getting a 5.25 lb ribeye roast with a nice 1/8-1/4" fat cap. (I'll explain why I'll trim that down next time I want do something like this.) For my part, rather than kosher salt, I used Montreal Steak Seasoning for the 30 hour dry rub -- I highly recommend it and got lots of kudos for it. Despite the thread linked above, I was still unsure how much time to allow for this 5 lb roast, so I gave it 5 hours. And less than 1 1/2 hours later it was ready at 110* and now what? Can't leave it out to wait closer to dinner. What happens if I refrigerate it? My sister and I colluded and decided refrigeration was the way to go, so after a 10 minute foil covered rest, in it went. Two hours or so later, I pulled it out, let it warm a bit for 30 minutes and fired up my Genesis 330 to max. We were over 600* when I put the roast on fat cap down -- next time fat cap up. The intense heat dumped a lot of fat that the brief smoke didn't render (so trim next time). After that I was searing over a roaring grease fire. No damage, watched carefully, turned frequently, checked temp every few minutes. We ended up with a fine roasted bark including the fat cap which I took care to sear well. Meanwhile, my daughter had come over with her Doberman, Roman. What an awesome beast! He and Tonto remembered each other and had a great time until Tonto said, OK Enough!
My sister prepared a wonderful Jalapeno Cheddar Au Gratin dish. On the smoker/grill I roasted succulent corn on the cob in the husk. (Soak the husked corn in water for two hours, drain, carefully peel back all the husks without tearing them off but remove the silk. Then butter lavishly, sprinkle with a good layer of Cajun Spice, and salt if needed. (My Cajun Spice has very little salt, if you use a marketed Cajun spice they are typically 50% salt. Don't add more.) About 20-30 minutes at med high indirect heat is all that's needed for the corn. Turn every 5 minutes or so.) I couldn't really tell if starting the corn on the smoker for a half hour contributed -- just too much smoke around and well-smoked roast.
The resulting meal was just fabulous! Everyone agreed the Montreal Spice was a great option. There was plenty of steak this morning for steak and eggs.
I got lucky and remembered to get a pic after dinner (thankfully or this would never have happened!). There was a nice smoke ring all around even after only smoking to 110*. Because the roast was typical ribeye shape, the thinner end ended up at 140* before the thick end ended up at 130* at extraction time. Next time I will bind the roast to get a more even doneness throughout. But it still worked out well. The thinnest end was medium well for about an inch before the redness started creeping in. By half way through, we found a good medium rare. The refrigeration step appeared to have no real effect at all -- it's safe to do. The roast was just as good as it looked and I have J Hasselberger to thank for making me hungry for steak one morning at 11:00am week ago!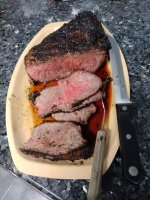 Last edited: