Cooking up an 8 pounder.
For smoke, I inverted a couple of flavorizor bars and added apple wood. Next time I'll put some foil over it.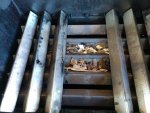 Next comes the biggest disposable aluminum pans that fits full of the hottest water from the tap.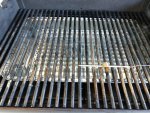 Butt was covered with Meatheads Memphis Dust from AmazingRibs recipe.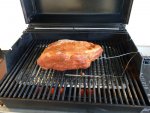 You can see why I will use foil over the wood chips. It was smoking well before I opened the lid. But I still got a nice mild smoke after closing.
I'm seven hours in and the internal temp is at 167. I may run out of beer...
It's pretty windy out. Front and middle burners on low. Temp on the grill surface varies from 230-250.