Jewish New Year is coming up and I'm planning on smoking a brisket because the last smoked brisket was so dang good off the E6.
So what better way to enhance a brisket experience than with NY garlic full sour pickles?
Winco had some decent Cirby cukes yesterday so I went to work on them this morning.
Rinsed clean the cukes, placed them in a full ice bath for 2 hours. This enables them to really firm up as the cukes absorb the cold water and become real hard which helps make a better ferment over the coming days.
Placed the cukes in a non-reactive bowl and added in 5 crushed garlic cloves, 3 crumpled bay leaves, a few black peppercorns, 3 arbols, and a pinch of pickling spices.
Then I mixed up 1000 ml cold water and then added 3.3% weight in brining salt 33 ml increase on the scale. Mixed the salted water with a wooden spoon.
Then poured the salted water over the cukes, and made a sandwich ziploc with the remaining water so to ensure the cukes are fully submerged.
Covered the Rubbermaid with a vented lid so the countertop ferment can begin.
Inside home temps are 79° right now and might go as low as 74°.
In 5-6 days these will be half sours. Add another 4-5 atop that and we'll get to full sours. And these will be nice and garlicky as designed.
So, here's the first pics of a project that just requires monitoring. The reward will hopefully exceed the time in 2 weeks!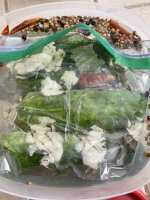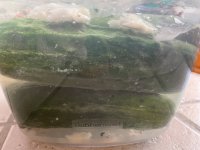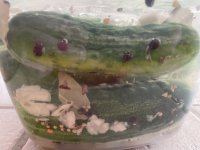 The brine will develop a whitish tinge over the fermenting period. This is a natural fermentation process. No vinegar, sugar or heat is used in making these pickles.