First of all, thank you to all the Gasser Forum denizens that freely share their knowledge and experience so that a person like me with no experience with tools could start and finish a project like this.
I got hooked last summer browsing the Gasser Forum seeing all the beautiful Genesis restorations. I have a WSM 22 and a charcoal grill, but no gas grill. I suggested a gasser to my DW as something she could use herself and something that could be used on work nights when time was short. She was surprised when I said I wanted a used grill that was over 20 years old. My goal a Genesis 1000 redhead. I wanted a deep-box, 13 bar, rotisserie machine. I browsed CL, FB Marketplace and Offerup for a few months before giving up and getting a black on for $40. Of course, a few days later a redhead showed up for $30. This worked out well because I could put the best parts of both grills together.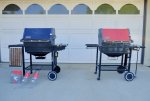 The black one was more complete and came with some shiny new parts, but it also had six extra holes in the firebox because someone mounted a non-Weber rotisserie. So I focused my attention on the redhead.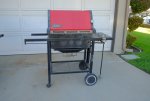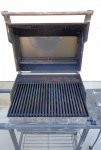 The grill is finished, but I'm having difficulty posting this thread, so I'll break it into smaller posts.
Edit: I'm having difficulty with my internet, so I will try to finish this later.
Last edited: