Made some ribs with the beginner recipe here:
https://www.virtualweberbullet.com/basic-baby-back-ribs/
.
Temp stayed around 250F.
Got two racks, used Spice House rib rub and mix of cherry and hickory wood. Ended cooking about 4 1/2 hours, then wrapping and resting for 20 minutes.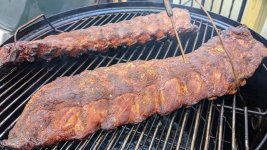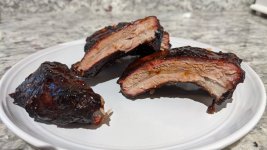 Ribs were good, had some cling to them and very tender.
Would definitely make again.
Last edited: