This is for you Barb
Dinner tonight, something different for a change. lol We both enjoyed it very much. Hope you do.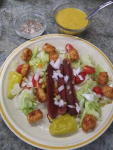 Chicago Hot Dog Salad
12 oz. frozen potato puffs
1/2 tsp.celery salt, plus more to taste
2 TB. apple cider vinegar
1 TB. yellow mustard, plus more for topping
1/4 cup vegetable oil
1 head iceberg lettuce, shredded
1 cucumber, peeled, quartered lengthwise and chopped
1 1/2 cups grape tomatoes, halved
12 pickled pepperoncini (4 stemmed and thinly sliced, 8 left whole
4 hot dogs
1/2 small sweet onion, diced
Sweet relish, for topping
1. Bake the potato puffs as the label directs. Sprinkle with 1/2 tsp. celery salt.
2. Meanwhile, whisk the vinegar and mustard in a large bowl. Whisk in 3 TB. vegetable oil until smooth. Add the lettuce, cucumber, tomatoes and sliced pepperoncini; season with celery salt to taste. Toss to combine.
3. Slice the hot dogs lengthwise about three-quarters of the way through; open like a book. Heat the remaining 1 TB. vegetable oil in a large skillet over medium-high heat. Add the hot dogs cut-side down. Cook until browned and crisp, 2 to 3 minutes. Flip and cook until browned on the other side, about 2 minutes.
4. Divide the salad among plates; top each with a hot dog. Drizzle some mustard on the hot dogs, then top with the onion and relish. Add the potato puffs and whole pepperoncini. Serves 4
Source: Food Network mag. June 2019