Well I'm very glad that something told me to start this mammoth 12 pound butt last night! Removed after a little over 17 hours, probes very nicely, sorry got it in foil and towels before I thought about it! I will try to remember some shots before and after pulling!
Now, starting to sort out what sides need early prep. Little potatoes for crushing have just been boiled and lavishly buttered, I'll prep broccoli in a little while. Fire off the Vortex for some wings later. Not doing any sausages this week, I forgot to get any out!
Set up was perfect, not any major issues at all. A couple of dozen fresh coals at 05:00 repeated at about 10:00, the residual fire is heating a water tray to clean the rack.
Just ready to go on...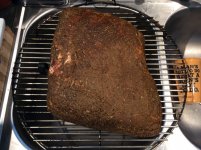 Cleaning mode...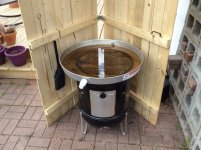 Lighting up process...