This being turkey season , a lot of folks are wet brining. This gadget appears to be very useful, in that it solves the problem of floating meat.
The Briner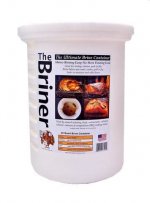 I'd like to use this for whole chicken also. But I already have an 18 qt container that I used one time to brine a turkey. But I don't recall how I solved the problem of the turkey floating ?
Surely someone has solved this problem without a special brining bucket ?