I've used my Weber Genesis grill for several years with no problem. Other than cleaning the grill's internals once a year, it has required no other maintenance until this year, when my flavorizer bars finally rusted through. After researching, I decided to replace them with stainless steel bars so that hopefully I would never have to replace them again. My research suggested that Weber's own stainless flavorizer bars (which are pretty expensive) are probably one of the cheaper grades of stainless steel since they don't boast about them being grade 304 or 316, which would make them less corrosion resistant than 304 or 316. So I opted for a much less expensive
set from amazon
that claims to be grade 304 (and since a magnet doesn't stick to them, perhaps they really are 304). They are pretty solid, thick, and don't seem cheaply made.
After giving them a while to burn in at maximum heat, I let the grill cool & cleaned the grates again. But when I cook with these stainless bars, my meat gets a strange hazy grey-black discoloration that it never had before! I've cooked on it several times now, and when cooking chicken, you can really see the lines. The grey-black lines on this chicken are
NOT
grill lines from the hot grates; the grey-black lines are
from the spaces between the grates
! What the heck could be causing that? And is it safe to eat?!?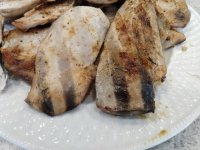 Last edited: