Hey all, I wanted to post up a rack system I built last summer to take advantage of the extra space provided by the Cajun Bandit extension ring. Looking at TVWB modifications page, it looks like some similar things have been done previously.
First, the inspiration for the build: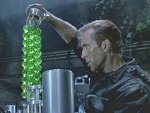 So three racks is great, but I love bone-in-skin-on chicken thighs....and nothing is better than BISO thighs on the WSM. Biggest problem is there isn't enough space to cook a ton of them! So I went to Amazon and bought:
(6) Weber #7431 cooking grates
(1) Weber #7432 cooking grate with handles....you know....the one that comes with your smoker
1/4" stainless steel threaded rod, fender washers, split washers, and nuts
After a couple of hours of measuring, cutting, leveling, and tightening I arrived at my finished product!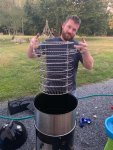 Ain't she beautiful? Well, it works well. Gets good air flow top to bottom, and puts out some damn fine BISO things! Problem solved! 7 racks of WSM goodness!
Last edited: