Administrator
Staff member
Butchertown Hall
1416 4th Ave North
Nashville, TN 37208
615-454-3634
From the Butchertown Hall website:
"Butchertown Hall is local restaurateur Terry Raley's vision of modern barbeque, inspired by the Central Texas meat market culture in which he grew up, and the late 19th-century butcher shop pursuits of this very neighborhood. Making extensive use of our 36 square-foot open fire hearth, alongside a custom-built high-capacity smoker, we patiently cook soulful, exciting food. Expect the finest wood-fired premium cuts, craft tacos & Tex-Mex standards, roasted oysters, delicately-charred garden vegetables, and the finest smoked brisket outside of Austin…ask around."
---
The Official TVWBB Greater Nashville Area BBQ Restaurant Correspondent (my sister) went to Butchertown Hall today for an early 4:30pm dinner. It's located in Germantown, one of Nashville's hottest urban neighborhoods jam-packed with historic homes and buildings and a bar or restaurant on almost every corner.
Our correspondent writes, "Nice outdoor patio seating. We chose to eat inside because it was 97*F outside and humid, but it was hot inside, too...felt like no air conditioning running. Very cool modern vibe. Subway tiles on the walls, wooden floors, and lots of repurposed décor. It was very hard to hear one another, so it was difficult to enjoy conversation.
"We ordered a full rack of baby back ribs and 1/2 lb of brisket, with mac & cheese, Brussels sprouts, and rosemary potatoes. Presentation on butcher boards was beautiful. Loved the house pickles and onions. Unfortunately, the ribs were dry and hard to pull from the bone and the brisket was dry and stringy. I was longing for that juicy, fatty, melt-in-your-mouth brisket--not happening here at this place. The meat and the sides were just warm, kind of on the cold side. They also gave you tiny plates to eat from, which was very difficult.
"I thought the tortillas on the side were yummy but strange with barbecue. I was left longing for a good cornbread. They didn't have traditional sides of beans, coleslaw, or collard greens. Wish they had those."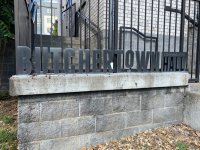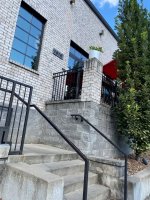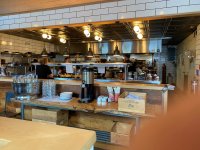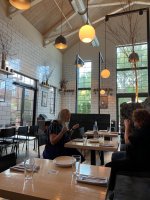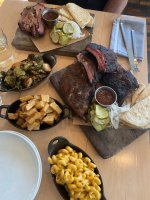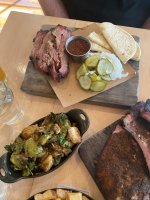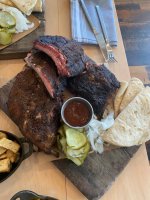 Turns out the highlight of the evening was not the barbecue at Butchertown Hall but the cookies from nearby Christie Cookie Co. Southern pecan, peanut butter, and triple chocolate were enjoyed.