we want to make some Chicken Tortilla Soup this weekend so I need some shredded chicken. So… I cooked a donor cook for tonight's supper. Placed a chicken skin side down on a cast iron griddle over live coals.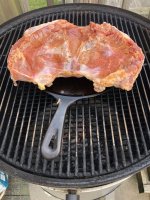 I didn't flip it because chicken has enough fat to cook itself. Smoke/roasted it a cpl hours.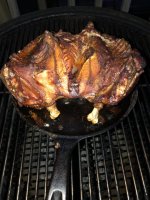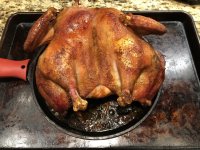 served with a Sweet Potato Maple Bourbon Soufflé. We ate the legs so we'll have the breasts for the soup and maybe some enchiladas ( this bird has big breasts).