Administrator
Staff member
From Weber's media newsroom.
--
Something's In The Air: Weber Enters $3.9B U.S. Fragrance Market
PALATINE, Ill., Apr. 1, 2015—Weber-Stephen Products LLC is entering the $3.9B U.S. fragrance market with a new cologne for men and women. The new product line from the leader in charcoal and gas grills was announced at the International Fragrance & Personal Care Products Expo last week in Chicago.
Weber has partnered with Proctor & Gamble, makers of Old Spice, to develop
"Old Kettle"
cologne. Initially available only through Weber.com, the company hopes to roll-out the fragrance nationwide in 2016 through value-oriented retailers including Walmart, Target, and Dollar General.
"I'm excited to announce this product to Weber fans," says Skip Stephen, grandson of company founder George A. Stephen. "My grandfather would be so proud and so happy about this new product. Most people don't know that after grills, Grandpa Stephen's great passion was cologne. He often said that had 'that crazy buoy thing' not worked out, he would have most certainly gone into the fragrance business."
Working with olfactory experts in the Proctor & Gamble R&D lab in Cincinnati, Weber spent two years developing a fragrance profile that would appeal to 75% of men and 25% of women, roughly the same percentages of the sexes who take control of the tongs when grilling at home.
"Given that grilling is deeply rooted in the American psyche, we were striving for a fragrance that connotes outdoor cooking in an honest, sincere way," says Seymour Fischler, P&G product lead for "Old Kettle". "The foundation of the fragrance is a smoke scent, with notes of apple wood, cayenne, molasses, beef fat and unburned charcoal briquettes. Test panels and focus groups really liked it."
The cologne comes in a specially-shaped bottle reminiscent of a real Weber kettle with miniature vinyl cover. Available in 1.4-ounce, 1.8-ounce, 2.2-ounce, and 2.6-ounce sizes. An optional Slide-Aside™ Lid Holder is also available.
For more information about Weber's new fragrance, visit
www.weber.com
. For more fragrance and personal care tips from Weber's Grill Master Kevin Kolman, visit
www.weber.com/blog
.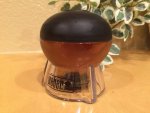 SOURCE Weber-Stephen Products LLC. Oh, and April Fools!
Last edited: