These will eventually hit the grill, so I think they count?
I'd been thinking about making a batch of sausage for a few weeks now, and
the video
that
@Dustin Dorsey
posted pushed me over the edge. These will mostly get eaten at a gathering tomorrow, so I didn't really have time to do a cured/smoked sausage, so went for some fresh brats. Here's the formula, ingredients listed by percentage of the fat/lean in the recipe:
1.8% Kosher salt
.27% Black pepper, fresh ground
.22% Ginger, Dried
.22% Nutmeg, Dried
8% Water, Ice Cold
2 Eggs, Large
6 Jalapenos, small dice (per 5lbs fat/lean)
6 oz Sharp Cheddar Cheese, small dice (per 5lbs fat/lean)
~10 Feet 32/35mm hog casings (Syracuse Casing Company)
I ground up 4lbs of pork shoulder, and a bit over a pound of pork belly in my grinder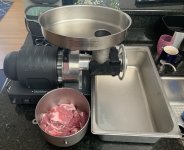 While the meat was back in the fridge getting as cold as possible, I got the ingredients together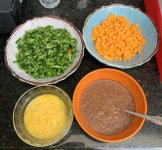 I like to mix the spices with the ice water. Got all of that, along with the ground meat into a hotel pan and mixed like there was no tomorrow!!!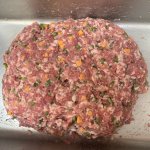 Loaded up my Enterprise stuffer, slid on a tubed casing (SO much easier to get on the stuffing horn with the tube), and stuffed a long ring/snake of bratwurst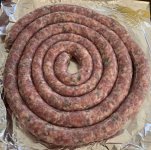 Linked it up into ~5" links, and slid everything onto my makeshift "drying rack" (my wife's favorite!)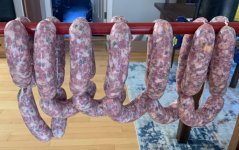 I had about half a cup of meat leftover in the stuffer, which I plan to make into patties for a sandwich when lunch rolls around.......
Including my run to the store, I got this batch done in about 2 hours including clean up. Not too shabby!
Rich
Last edited: