Tim, "in the white" is a term luthiers use when an instrument is ready for finish. A mandolin is often strung up with no finish and tuned, played some to fine tune the tonal quality for the end product. That's where that came from.
Yes, two pieces. One as a "girdle" to hold the wings in and the second to tie the legs in.
It's really not a complicated method, you can do it with one but, it's much more involved as far as manipulation of the string.
This is how I (occasionally) tie a pork loin, always if I stuff and roll one, sometimes if it's a little oddly shaped it helps too.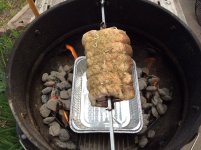 These I do with individual length, not as elegant as a single run which is looped and tightened at each "station". That is a beautiful technique but, I don't do it enough to be quick and I don't see an advantage.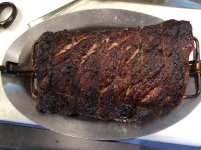 Look up "Surgeons Knot" it's really simple, a simple square knot with an extra twist on the first turn, they draw up pretty easily even if the twine gets a bit moist.
Last edited: