I have to buy 5 or 6 cross burner tubes to get to about $8 a piece. I have plenty of Weber tubes so it works for me. For someone with only 1 grill a set at $14.99 is hard to beat
You can't beat it. But don't be foolish and try to say that it is the same thing, only cheaper. Anyone can see that it is not.
So sorry if this comes across as harsh! No harshness intended.
EDIT: Example...venturi. The Q 120 aftermarket burner I bought recently has no venturi. What does a venturi do? It causes the gas to mix with the air better. Why does it matter? Depending on the weather, without a venturi it can be difficult to get the burner to light, among other things such as promoting complete combustion. Look at the picture you posted of your Weber burner...notice the nice, long venturi area. Why does Weber do it? Because they are the best at what they do.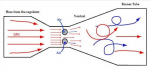 picture taken from https://www.semanticscholar.org/
Last edited: