A couple of days after Thanksgiving I was in the store and saw choice rib roasts for $6.99/lb, and being in a vulnerable state after several days of poultry I asked for an untrimmed, 3-bone roast.
The next day I started by separating the ribs so that I could season (salt, pepper, oregano) between them and the meat.
Because the roast wasn't trimmed it had a decent (not quite as thick as I would've liked, but acceptable) fat cap, which I hinged back for seasoning purposes.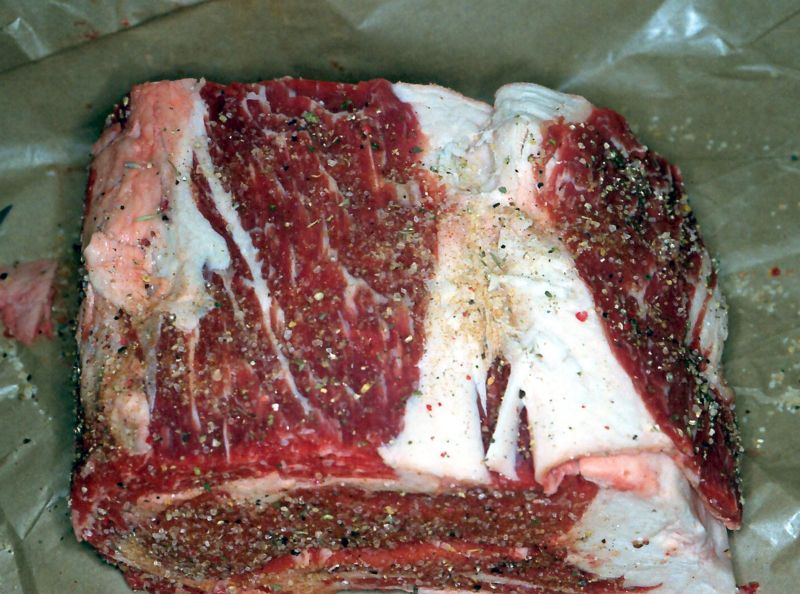 I rotisseried it over Royal Oak Chef Select briquettes and a small amount of oak in the hot-cold-hot configuration. Because one of the people who'd be eating it likes his meat a little more done, I ran the spit parallel to the ribs so that the long sides would be more exposed to the fire. Otherwise, I usually run the spit perpendicular to the ribs so that they and the fat cap get the heat.
I can't remember what the internal temp was when I pulled it off the grill, but obviously it wasn't too high.
Along with mashed potatoes, doctored jar gravy and mushroom it made for a nice Sunday supper.
And the leftovers made for great open-face beef sandwiches (aka "manhattans" in parts of the Midwest) later on!