Weather concerns had me firing up the Genesis tonight. Storms all around and I knew if I started a chimney on the Performer, the skies would open up. Since I cooked on the gasser, we didn't see more than a few drops, but had thunder and lightning all around. I bought some pre-marinated Peruvian chicken from Wegmans and made a modified "Solterito", along with some "Peruvian" potatoes. The recipe called for purple Peruvian potatoes, but I had Russets. Mixed up a combo of EVOO, minced garlic, S&P, cumin and for something different, a little smoked paprika. In the oven for about 35 minutes at 400f. Meanwhile, I got a couple thighs on the Genny and made the salad. Also whipped up a 'green sauce'. In the end, it was enjoyed by all and I think all of us are looking forward to leftovers. The salad in particular was very good - sweet from the corn and cherry tomato, salty from the olives and Cotija cheese and some acid from the vinegar - I'll add a little lime juice next time I make it, but this had a great flavor profile. Genesis ran about 400f for the chicken - thighs done indirect most of the time (one burner not lit) and put directly over the burner to brown up at the end. Boneless breasts were a combo of direct and indirect. Recipe for the salad below - try it now, while the produce is still near peak.
Chicken about 5 minutes from being done: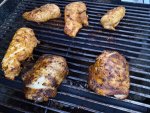 Plated up with the salad and potatoes.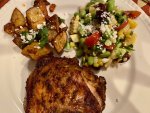 Oops! Almost forgot the green sauce for the chicken and 'taters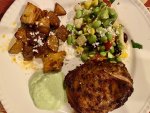 Here's the recipe for the Solterito: