Wanted to share this recipe. It was a grilled NY steak. It has you pepper the steak at the end so it won't be burnt or bitter. We liked it very much. Recipe is from Hey Grill Hey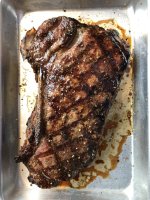 New York Strip Steak​
Prep Time:
30 mins
Cook Time:
12 mins
Servings:
Servings : 1
Source:
heygrillhey.com
INGREDIENTS​
1
strip steaks (1 pound)
coarse Kosher or sea salt
coarse ground black pepper
GARLIC THYME compound butter (OPTIONAL)
2
Tablespoons salted butter (softened)
1
clove minced garlic
1/2
teaspoon worcestershire sauce
1/2
teaspoon fresh thyme leaves (or 1/2 teaspoon dried thyme leaves)
DIRECTIONS​
Season the strip steaks. 30 minutes prior to grilling, remove your steaks from the refrigerator, season on both sides with the coarse salt and allow to come up in temperature.
Preheat the grill. Preheat your grill to High heat. You're looking for temperatures around 900 degrees F on the grill grates.
Make the compound butter. Combine all ingredients for the compound butter in a small bowl. Place one spoonful of butter directly on your serving platter underneath where each steak will be placed. Do this before you get your steaks on the grill so when they come off, you can set each steak on a spoonful of the butter. Set aside the remaining butter for the top of the grilled strip steaks.
Grill the steaks. Place the steaks directly on the grill grates at a diagonal. For a medium rare steak, cook 2-3 minutes, then rotate 45 degrees and grill for 2-3 more minutes.
Finish grilling the steaks to your preferred doneness. Flip the steaks over, cook 2-3 minutes, then rotate 45 degrees and grill for 2-3 more minutes. Increase or decrease cooking time as needed to reach ideal internal doneness. For a rare steak, cook to 125 degrees F, Medium Rare to 135 degrees F, Medium to 145 degrees F, Medium Well 155 degrees F, Well Done to 160 degrees F.
Place the steaks on the resting butter. Remove the steaks from the grill and set each steak on the dollop of prepared compound butter.
Rest the steaks before slicing and eating. Let the steak rest for at least 8-10 minutes before slicing. Sprinkle with the black pepper just before serving.