We got our first snow yesterday, so I broke out my late brother's Carhartt jacket for the first time this year. I received it 12 years ago after his passing, and it has become my grilling and winter working jacket. My son also steals "my Carhartt" and will wear it. So last night as I prepped to cook outside and hang outside with my niece and youngest daughter while they went sledding again out come my Carhartt. In one of Brett's great threads we were talking about cooking in the elements come and the handy Carhartt was brought up so I become compelled to take a picture for mine. While eating dinner last night we shared some of our favorite memories of my brother like the full on wrestling matches (into our adulthood) and the drying towel whipping contest that would end in multiple welts. Both happening while we were supposed to be cleaning up after dinner. Or when he taught my (then toddlers, no teens) to surf on the gliding chair ottoman.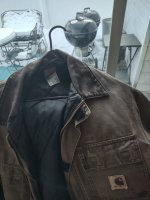 Anyways enough of that, time for the food. I got this new rotisserie chicken seasoning from Sauer's so wanted to give it a try.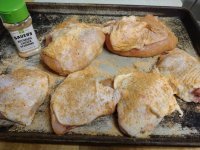 Some flanken beef ribs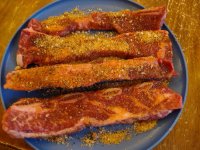 Chicken got a head start.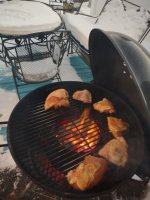 And just before pulled.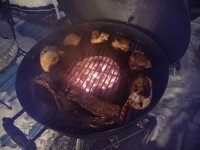 And the plate.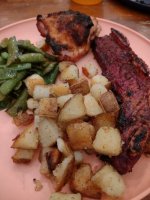 Chicken got a little dark on the skin, but the meat was juicy and tender. The seasoning was really good and it made some of the best breast meat I have had I n a long time. It was a great meal and great sharing my memories of my brother.