To borrow a phrase from DanHoo. lol
Butterflied chicken legs. Amazing.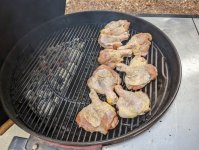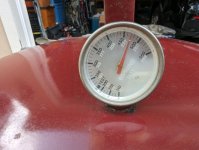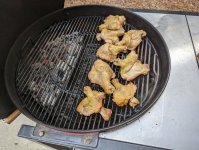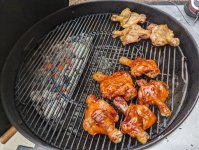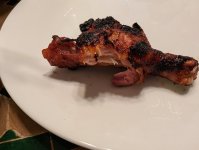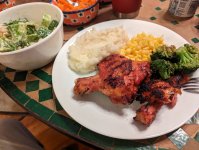 I lost my Dad this year on Jan. 2nd. I was particularly missing him today. He loved golf and grilling. So, I spent the afternoon in the garage, watching the PGA Championship and grilling. Back in the day my Dad would either grill steaks or chicken slathered with caramelized BBQ sauce on it. So, I sauced some the legs, mostly for nostalgia but they turned out REALLY good. They were super easy to butterfly and boy did they cook up nicely. Got it very hot at first then shut the vents down to slow them down for timing with the rest of dinner. Used a mix of Head Country Original, Banchan's Japanese BBQ Sauce, and some Valentina hot sauce for spice. Much meatier than wings, easy to eat, tender and juicy. Even the skin came out crispy. Cooked them at around 325 degrees for the majority of the cook, indirect for about an hour and 15 minutes. Sauced for the last 20 minutes and finished the sauced pieces directly over the coals for about a minute on each side.
But, the real headline is that at $0.90 a pound, this was a no-brainer. Again, might be done with wings....
Last edited: