Having the floors refinished so, EVERYTHING must get out of the way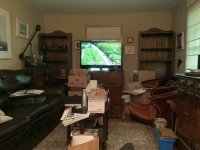 Thank God for my wife's son and his buddy! My niece and brother in law were here lugging stuff too!
The butt was almost 12# and I ended up running a touch hotter than normal but the end result was lovely. Potato salad, macaroni salad, perfect Manhattan's, lots of water, plenty of ice. And at 74* with virtually no humidity, it was probably the best day for that much moving I've ever had.
Sunday, we were totally exhausted. Drove up for a butter pecan ice cream cone at Plainwell Ice Cream, loafed the way back, went to the kids place to let their dog relieve itself and finally home for a "Betty White" dinner of vodka and hotdogs!
Last edited: